Fitzgerald/Thomason
During the late 1990's and through the 2000 season Mike Fitzgerald and Mark Thomason made extensive use of Mazniak Gear together with older BG equipment. In 2001 Mike obtained a couple of Yugov units and they are still experimenting with these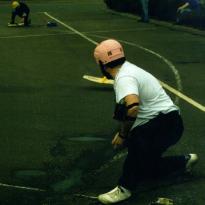 Mark is seen here getting a head start on Brian Turner at the start of a race
Having been regular members of the British Team over the years Mike and Mark had a bit of an "up and down" season during 1999. There fastest time was a 3:17.0 (putting them in second place on fastest time) but they were not able to string enough fast times together and their qualifying average at the end of the season was just 3:24.5.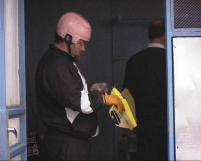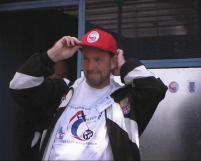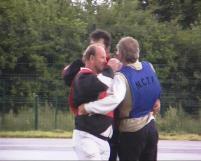 In the 2000 Season Mike and Mark struggled to put any really quick times in and ended up in 4th place within the team qualification tables with an overall average of 3:28.2. Flying in a total of 7 events they also ended up in 5th place on the 2000 F2C Racing League Table
During the 2001 season Mike and Mark obtained a couple of the latest Yugov 15 motors together with Victors carbon fibre fuselage sets. Immediate promise was shown with the first use of these being at the 2001 Nationals and a 3:24.7 being the result of an effortless race. As in 2000 the lack of any really quick times prevented Mark and Mike getting their average down in the low 20's and they ended up in 5th place on the team qualification table with an average of 3:30.0. In the league they ended up in 2nd place on 33 points having flown in 8 competitions during the season.