The 2000 World Control Line Championships
Piennes-Landres France - July 12th to 19th 2000
This years world Control Line Championships were held at the much improved site at Piennes/Landres in France between the dates of July 12th and 19th. The event was well attended with a total of 636 participants from 46 different countries.
The UK sent a full contingent as shown below :
Team Manager – Andy Whorton Assistant - Roger Ladds

F2A - Speed Peter Halman, Gordon Isles, Ken Morrissey

F2B - Aerobatics Bill Draper, Barry Robinson, Roy Cherry

F2C - Team Race Malcolm Ross / Brian Turner, Steve Smith / Colin Brown

Bernie Langworth / Dave Campbell

F2D - Combat Mike Whillance, Mervyn Jones, Peter Grange

Pitmen – Tony Frost and Stuart Vickers
In addition to the team of 19 the UK also had over 70 who travelled to see the flying as the journey to Piennes is fairly short and can be achieved on a small budget compared with other recent championships.
All of the teams were scheduled to arrive by the evening of Wednesday 12th July with Hotel and Camping facilities provided (at cost) by the French Organisation Team lead by Bruno Delor and Jean Paul Perret – both members of the French Team Race Squad in addition to their administrative duties.
Most of the British team had been placed in the Aster Hotel, Briey just 8 miles from the competition site thus significantly simplifying organisation within the team during the event.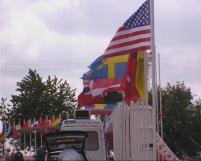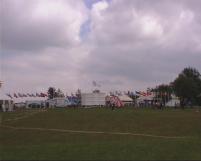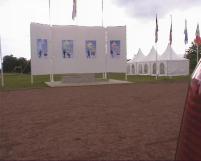 The site at Piennes has grown significantly since it was opened for the first competition in 1994 and has hosted a couple of international events each year since then. With the 2000 championships being held at Piennes a lot of last minute work had been done to provide an impressive overall competition environment. Each discipline has its own circle for competition flying with offsite circles being provided for practice purposes where required. (official practice sessions were made available in the competition circles)
It was unfortunate that the event coincided with an extremely wet spell in northern France and this was to have an effect on both participation in the event and on the facilities for spectators as the newly laid grass turned to mud. Several camping vehicles were to end up over a foot deep in the resulting quagmire.
Food was provided in marquees onsite throughout the competition enabling events to continue with minimal disruption.
The Opening Ceremony was held in a local sports arena at Tucquegnieux, around 10 minutes from the site at 10:00 pm on the Thursday 13th and all teams were welcomed to the event by the local Lord Mayor and other officials followed by displays from local groups and the usual fireworks and music.
Processing of all models was performed in allocated slots for each nation during the day after arrival and took place in a nearby gymnasium providing a first chance to see all of the models that would be flying during the following days – something that is of interest to participants and spectators alike.
The Competition
F2A – Speed - 6 Entries from 18 Countries
A Delay in the 1st round in speed due to the weather resulted in a 1:00 pm start to the event. Luis Parramon (ESP), the reigning World Champion was second to fly and set the pace with 294.5. and UK team member Gordon Isles put in a 288.0 a couple of flights later to hold second place until half way through the round when UK team member Peter Halman put in a 293.3. These positions stood until Andrei Kalinine put in a 294.8 flying almost at the end of the round to take 1st position. Ken Morrissey had called an attempt earlier in the round and, in his second attempt, put in a 291.2 to take 4th position away from Gordon Isles

The second day began superbly for the UK contingent with Ken Morrissey flying first at 8:00 am and putting in an excellent 297 to take 1st position. Peter Halman also improved to draw level with Luis Parramon on 294.5 but then Luis Parramon himself put in a 297.5 to ease Ken out off the top. Gordon Isles was unable to put in a time in the second round and thus remained on 288.0. Towards the end of the round Jean-Marc Aube (FRA) put in a 289.1 to push Gordon down a further place which meant that, at the end of round 2, the UK team were looking good for the team prize with 2nd 4th and 6th places and all with a chance of individual placings if small improvements could be found.

The third round began at 8:00 on the Monday morning. 1st to fly from the UK team was Gordon Isles who was lucky to finish the required 9 laps with the model getting very close to the floor each time it went round the south side of the circle. Never the less an excellent 293.6 was the result moving him up to 5th place overall. Neither Ken Morrissey nor Peter Halman could improve on their previous best although Peter came close with 293.3 so we were left to wait and see if Serguei Kostin (RUS) could come up with anything to interfere with the placings. Flying very late in the day he was to come close with 292.2 but not quite fast enough to affect the top placings with UK's Ken Morrissey taking the silver medal.

So, yet again, the UK Speed team were victorious with 2nd,4th and 5th place - a total speed of 885.1 kph with the Russian team second around 20 kph slower and France a further 10 kph behind.
F2B – Aerobatics - 93 Entries from 29 Countries
Due to the extremely large entry the Aerobatics event could not be delayed and had to continue through the varying severity's of weather conditions. Even with no delays the first two rounds were scheduled to run through until 11:00 am on the fourth day of the competition. Round 1 therefore got underway in very variable conditions and it was to be reigning World Champion Han Xinping (CNN) who set the target for the first round flying on the Friday afternoon and scoring 2961.5 followed by his fellow countryman Zhang Wei with a score of 2946 having flown just before lunch on the first day. In third place at the end of the 1st round was Bill Werwae (USA) with a score of 2922. The best UK performance in the 1st round came from Bill Draper with 2704 followed by Roy Cherry on 2646 and Barry Robinson on 2596.5.

Round 2 was held in generally improving conditions and a number of flyers improved their scores as a result. Highest score in the 2nd round was achieved by Gilbert Beringer (FRA) with 3052 with two other flyers surpassing the 3000 mark – Bill Werwage with 3018 and Yuriv Yatsenko (UKR) with 3007.5. All three UK flyers improved their scores in the 2nd round and were to finish in adjacent positions once the first two rounds were completed – Bill Draper 41st with a best of 2798, Roy Cherry 42nd with 2792.5 and Barry Robinson 43rd with 2778.5.

In the first round of the flyoffs Han Xinping and his fellow countryman Nu Anlin lead the way with Gilbert Beringer very close behind. The second round saw the two Chinese flyers put another two good flights in to consolidate their positions with Gilbert having a poorer flight and falling around 50 points off the pace. The 3rd flyoff round saw Gilbert put in the best flight of the round scoring 2975.5 and ensuring 2nd place with both Chinese flyers returning lower scores. In the end it was to be Han Xinping who retained his title followed by Gilbert Beringer and Nu Anlin. With the 3rd Chinese flyer, Zhang Wei sharing 4th place with Remi Beringer (French Junior) it was clearly China for the team prize. Japan managed to take the team silver with the USA very close behind for the bronze.

The report of the Aerobatics event cannot be closed without a mention of the model that stole the show as far as the crowd were concerned. Paul Walker (USA) brought along his semi scale B17 four engined model and, despite everyone having said it was impossible, flew it to near perfection achieving 9th place overall. When you consider that this was in competition against the worlds best with models that have evolved purely for aerobatics purposes this is quite an achievement. The model was not the easiest to fly and was "a bit quick" but the manoeuvres were spot on and the crowd roared there approval every time it flew. Several flyers were using the models produced by Yuriy Yatsenko who placed 8th for the Ukraine. These models come complete and ready to fly (all you need is some fuel) and cost in the region of £1,200 ready to go.
F2C – Team Racing - 49 Entries from 19 Countries
Racing began at 2:00 on the Saturday afternoon and 1st UK involvement came with Langworth/Campbell flying against Delor/Constant (FRA) and Marschall/Kuckelkorn (GER) but the British Teams motor was, unfortunately, set very light and the resulting 3:28 (with a near perfect race) was the best they could hope for. The next UK team to fly was Ross/Turner against Aascher/Aascher (USA) and Fairey/Fairey (CAN). Malcolm and Brian had a lovely setting but lost about 5 to 6 seconds with poor starting. Needles to say the resulting 3:19.7 was pretty good and just imagine if the motor had started 1st flick each time. Smith/Brown were last away for the UK and had the misfortune of breaking the propeller (on the pitman's leg) at the start of the race. A stroke of luck was to follow, however, when a tangle between the other 2 teams – Zuchowski/Dabroski (POL) and Bezmertny/Fulitka (UKR) gave Steve and Colin a reflight as they still had greater than 50 laps to complete. In the reflight the motor never reached true race temperature, partly due to the race being a 2-up, but with the model circulating at around 18.9 for 10 combined with perfect pitstops a 3:25.9 was the result. Fastest in the 1st round were Pennisi/Rossi (ITA) with 3:15.0 followed by reigning champions Andreev/Sobko (RUS) with 3:17.7 and Surugue/Surugue (FRA) on 3:18.4.

None of the UK pairs were able to improve on their times in the 2nd round with Langworth/Campbell being disqualified for whipping and thus not recording a time. Smith/Brown put in a 3:31.9 having had to do 3 stops due to the model being cold and 50 laps solo not helping. Ross/Turner had a similar run to round 1 – recording a 3:20.5. Three teams had notable improvements – Bondarenko/Lerner (UKR), makers of the much used Mazniak models, recording a 3:16.7, Titov/Yugov (RUS) a 3:18.0 and Andreev/Sobko knocking .2 of a second off their 1st round time with a 3:17.5.

With only Ross/Turner in the semis this was the last chance for the other two UK pairs to try and book their place but this was not to be. Langworth/Campbell had setting problems resulting in compression changes and Smith/Brown did not have the airspeed to achieve what was needed putting in a 3:26.6. A number of teams did improve in this round which included the two fastest times of the heats – Maret/Perret putting in a brilliant 3:12.2 and Chabachov/Moskaleev just behind on a 3:12.9. On the team front, Italy had three pairs into the semis with Ukraine and France pressing closely behind so it was clearly to be these countries that took the team placings. Russia would have been in the running but Andreev/Sobko did not count because they were flying as reigning champions – not team members.

The first round of semi-finals got off to a flying start with the Surugue Brothers (FRA) flying against Titov/Yugov (RUS) and Pennisi/Rossi (ITA). Neither the Russian or Italian team could come up with anything special but Surugue/Surugue put in a perfect 3:14.1 thus setting a target for all to aim for. The following two races did not press the excellent time set by the French brothers but the 4th race was to be the best of the championships. Maret/Perret (FRA) were flying against Chabachov/Moskaleev (RUS) and Fischer/Straniak (AUS) and in what was a near perfect race with all three teams landing and taking off together at each stop a new record of 3:12.4 was set by Maret/Perret with Chabachov/Moskaleev just 0.6 secs behind on 3:13.0. Fischer/Straniak came in last with a time of 3:16.6 (good enough to win most competitions). In the Second round of semis Andreev/Sobko, reigning champions, picked up their second disqualification and bowed out. It looked like being two French teams in the final until the Ukrainian pair of Bondarenko/Lerner (UKR) put in a superb 3:13.5 to grab 3rd slot. Bondarenko is the builder of many of the Mazniak models and this is basically a Mazniak works team.

All teams were away cleanly at the start of the final with the French and Russian models clearly inside 18 for 10. The Ukrainian pair were slightly slower but were then found to be 40 lapping to avoid a pitstop. Tragedy however, hit the Russian pair with a fumbled first catch and the model ran in putting them out of the race on lap 34. The French pair had a near perfect race showing speeds of 17.5 for 10 at times and gradually built up a lead that could not be balanced by the Ukrainians doing one less stop. Final times were a superb new record of 6:28.9 for Maret/Perret and 6:45.6 for Bondarenko/Lerner. The team prize was taken by France with their 1st, 4th and 6th individual spots giving the a total of 11 points. Second were Ukraine with 31 points and Italy took the bronze with 35 points.
F2D – Combat - 69 Entries from 21 Countries
The 1st round of combat got underway on the Friday in rather mixed weather conditions but turned out to be a successful day for the UK team. First to fly was Mike Whillance – drawn against Andreas Herbert (GER). Mike took 2 cuts and won the flight comfortable although losing a few ground points. Next up was Peter Grange against Niklas Nilsson (SWE). In the first attempt both pilots took complete streamers in a single cut and there was no ground time – so with the result being a draw a re-flight was ordered. In the re-flight both pilots again took one cut but the heat was won on ground time (or lack of it) with Pete coming out on top by 9 seconds after a very nervy period while Tony Frost untangled the streamer before loosing the model. Last to fly in the 1st round was Mervyn Jones who had a walkover with the pitmen for opponent, Tony Chang (SIN) failing to get his model in the air due to starting problems.

The UK team did not have such a good run on the Saturday with only one win. 1st off was Peter Grange against the junior Phillip Teubel (GER) and Pete lost due to taking the whole streamer in one cut and then having excessive ground points. Next away was Mervyn Jones who make the mistake of taking the whole streamer again and, when the opponent, Tomas Mejzlik (CZE), took a couple of quick cuts the heat was over and the pilots flew level for the rest of the bout. Last to go in round 2 was Mike Whillance who won comfortably with two cuts to become the only UK flyer carrying a clean sheet into the 3rd round.

Round 3 was a good round for the British contingent with all three flyers winning their bouts. Mervyn Jones had an easy win with cuts and ground time against Gunther Staffel (AUT) and Peter Grange had victory against Kimmo Valkonen (FIN) due to excessive ground time. Mike Whillance had the difficult draw in this round – flying against Vadim Arifov (RUS) and in the first attempt both flyers took each others streamers in one pass and were initially instructed by the circle marshal to fly level. There then followed a confusing 30 seconds when the flyers were incorrectly instructed to "combat" and Mike's model was damaged. A refly was then granted, as should have been the initial case, but it was a pity a model was wasted in the process. In the refly Mike won with a quick 2 to 1 victory by attacking from the start and achieving a very useful victory.

Round 4 was not to be as successful for the UK with both Mervyn Jones and Peter Grange exiting the competition, Pete losing well to an on-form Tom Fluker (USA) and Merv making the common mistake of taking the whole streamer again and suffering as a result against Peteris Brokans (LAT). Mike Whillance had a good win against Rik Olijve (NED) and became the last remaining UK flyer by going through to round 5 with a clean sheet . A protest was made by the Dutch team as the bout had been delayed due to Mike not being present on site but this was rejected as it was the first bout and very little time had been given between the draw being issued and the start of the round. Mikes lack of presence was also partly due to the flight marshals error in the previous round and the need to replace equipment damaged as a result.

21 flyers were through to the 5th round with Mike Whillance being one of only five with a clean sheet. In his bout he was drawn against Kucera/Pawel (CZE) and Mike won the bout by 2 cuts to 1 plus ground time after the Czeck flyer had taken mikes streamer in one cut. The end of this round left just 12 flyers in the competition

Rounds 6 and 7 were the turning point for British hopes with Mike Whillance suffering 2 losses and exiting the competition. In round 6 he lost to Loet Wakkerman (NED) in a bout where both models were seriously damaged and 2 minutes were spent repairing a model to get it in the air. When Mike did finally get up again Loet put his model down to avoid having to combat and knowing he had already won on ground time. Round 6 had just 8 flyers participating but Mike unfortunately lost to Igor Zolnerkevitch (BLR) in a close bout which finished with one cut each but Mike having more ground points.

Round 8 saw the 2 remaining Ukrainian flyers Chorny and Milenin triumph over the other remaining competitors and become the only 2 left in the competition. This left a three way fly-off for 3rd place between Wakkerman (NED) Zolnerkevitch (BLR) and Hentschel (GER) and it was to be Igor Zolnerkevitch who triumphed for Belarus and took the bronze medal. The final was flown later on in the day and it was to be Stanislav Chorny who came out on top in a very tightly fought battle winning by 2 cuts to 1 and around equal ground time. Ukraine took the team prize comfortably with 1st and 2nd individual places giving them 16 points in total. Germany took the team silver with 10 points and with USA, UK and Czech Republic all on 9 points it was the Czech Republic who took bronze because of the individual count back scores
Junior Competitions
A big push has been made over the last couple of years towards encouraging the participation of juniors at international events. It was unfortunate that the UK were not able to send any junior competitors along to this years championships but there were 3 junior BMFA members present to gain experience and discover how a major championships is run.

All four disciplines had enough entrants to award junior medals as can be seen in the results with 5 in F2A Speed, 14 in F2B Aerobatics, 4 in F2C Team Racing and 12 in F2D Combat. Lets hope that the BMFA continue to encourage the participation of juniors in international events in the manner being done by many of our neighbouring countries. They are clearly the future of our sport and the response from the crowds to juniors competing at this year's championships was wonderful to see.
Results
F2A – Speed
| | | | | | | |
| --- | --- | --- | --- | --- | --- | --- |
| Place | NAME Surname | Nation | Flight 1 | Flight 2 | Flight 3 | Result |
| | | | (km/h) | (km/h) | (km/h) | (km/h) |
| 1 | PARRAMON Luis | ESP | 294.5 | 297.5 | 288.9 | 297.5 |
| 2 | MORRISSEY Ken | GBR | 291.2 | 297.0 | 286.6 | 297.0 |
| 3 | KALININE Andrei | RUS | 294.8 | 278.2 | 292.2 | 294.8 |
| 4 | HALMAN Pete | GBR | 293.3 | 294.5 | 293.3 | 294.5 |
| 5 | ISLES Gordon | GBR | 288.0 | 0.0 | 293.6 | 293.6 |
Junior
| | | | | | | |
| --- | --- | --- | --- | --- | --- | --- |
| Place | NAME Surname | Nation | Flight 1 | Flight 2 | Flight 3 | Result |
| | | | (km/h) | (km/h) | (km/h) | (km/h) |
| 1 | ORDON Michal | POL | 0.0 | 0.0 | 274.5 | 274.5 |
| 2 | GROSSI Luca | ITA | 262.0 | 265.6 | 271.9 | 271.9 |
| 3 | KING Krystal | USA | 259.7 | 256.0 | 0.0 | 259.7 |
Team Placings
| | | |
| --- | --- | --- |
| Place | Nation | Team result |
| | | |
| 1 | United-Kingdom | 885.1 km/h |
| 2 | Russia | 868.0 km/h |
| 3 | France | 858.0 km/h |
F2B – Aerobatics
| | | | | | | | | |
| --- | --- | --- | --- | --- | --- | --- | --- | --- |
| Place | NAME Surname | Nation | Flight 1 | Flight 2 | Fly-off 1 | Fly-off 2 | Fly-off 3 | Result |
| | | | | | | | | |
| 1 | HAN Xinping | CHN | 2961.5 | 2998.5 | 3056.0 | 2966.0 | 2921.0 | 6022.0 |
| 2 | BERINGER Gilbert | FRA | 2918.0 | 3052.0 | 3037.5 | 2917.0 | 2975.5 | 6013.0 |
| 3 | NU Anlin | CHN | 2921.0 | 2961.0 | 3040.5 | 2879.5 | 2832.5 | 5920.0 |
| | | | | | | | | |
| 41 | DRAPER Bill | GBR | 2704.0 | 2798.0 | | | | 2798.0 |
| 42 | CHERRY Roy | GBR | 2646.0 | 2792.5 | | | | 2792.5 |
| 43 | ROBINSON Barry | GBR | 2596.5 | 2778.5 | | | | 2778.5 |
Junior
| | | | | | | | | |
| --- | --- | --- | --- | --- | --- | --- | --- | --- |
| Place | NAME Surname | Nation | Flight 1 | Flight 2 | Fly-off 1 | Fly-off 2 | Fly-off 3 | Result |
| | | | | | | | | |
| 1 | BERINGER Rémi | FRA | 2918.5 | 2962.0 | 2955.5 | 2919.5 | 2880.5 | 5875.0 |
| 2 | LI Wen | CHN | 2584.0 | 2954.5 | 2669.0 | 2768.5 | 2773.5 | 5542.0 |
| 3 | GARRISON Dondi | USA | 2565.5 | 2817.5 | 2647.0 | 2589.5 | 2441.5 | 5236.5 |
Team Placings
| | | |
| --- | --- | --- |
| Place | Nation | Team result |
| | | |
| 1 | People's Rep. F China | 8 |
| 2 | Japan | 35 |
| 3 | U.S.A. | 37 |
| | | |
| 11 | United-Kingdom | 126 |
F2C – Team Racing
| | | | | | |
| --- | --- | --- | --- | --- | --- |
| Place | NAME Surname | Nation | Heat | Semi | Final |
| | | | | | |
| 1 | MARET J. / PERRET J.P. | FRA | 3:12.2 | 3:12.4 | 6:28.9 |
| 2 | BONDARENKO Y. / LERNER S. | UKR | 3:16.7 | 3:13.5 | 6:45.6 |
| 3 | CHABACHOV J. / MOSKALEEV S. | RUS | 3:12.9 | 3:13.0 | 34 laps |
| | | | | | |
| 9 | ROSS M. / TURNER B. | GBR | 3:19.7 | 3:22.0 | |
| 17 | SMITH S. / BROWN C. | GBR | 3:25.9 | | |
| 23 | LANGWORTH B. / CAMPBELL D. | GBR | 3:28.8 | | |
Junior
| | | | | |
| --- | --- | --- | --- | --- |
| Place | NAME Surname | Nation | Heat | Final |
| | | | | |
| 1 | BUCCI L. / PERRET C. | FRA | 3:55.2 | 7:35.3 |
| 2 | USTINOV D. / ORESHKINE A. | RUS | 4:08.8 | 185 laps |
| 3 | ABDHUL RAMAN N. / NAJIMUDEEN H. | SIN | 76 laps | 26 laps |
Team Placings
| | | |
| --- | --- | --- |
| Place | Nation | Team result |
| | | |
| 1 | France | 11 |
| 2 | Ukraine | 31 |
| 3 | Italy | 35 |
| 4 | Russia | 38 |
| 5 | United-Kingdom | 49 |
F2D – Combat
| | | |
| --- | --- | --- |
| Place | NAME Surname | Nation |
| | | |
| 1 | CHORNY Stanislav | UKR |
| 2 | MILENIN Igor | UKR |
| 3 | ZOLNERKEVITCH Igor | BLR |
| | | |
| 6 | WHILLANCE Mike | GBR |
| 22 | GRANGE Peter | GBR |
| 22 | JONES Mervin | GBR |
Junior
| | | |
| --- | --- | --- |
| Place | NAME Surname | Nation |
| | | |
| 1 | DEMENTIEV Serghei | MLD |
| 2 | MÜHLPARZER Armin | AUT |
| 3 | MYKHAILOV Denis | UKR |
Team Placings
| | | |
| --- | --- | --- |
| Place | Nation | Team result |
| | | |
| 1 | Ukraine | 17 |
| 2 | Germany | 10 |
| 3 | Czech Republic | 9 |
| 4 | United-Kingdom | 9 |
| 5 | U.S.A. | 9 |