Dave Campbell
who tragically died on June 24th 2003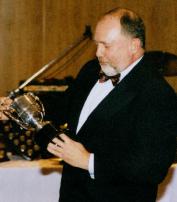 On tuesday June 24th 2003 we received the devastating news that Dave Campbell had passed away having undergone a major operation for throat cancer that proved to be to late to save him. It was a great shock for many of us as it was only two months since we had first become aware of the situation with Dave and Derek having to withdraw from the UK Team for the 2003 European Championships.
Dave had been a great friend and opponent for many years and he will surely be missed by many of us
Andy Whorton
From Derek Heaton on June 24th - 2003
I regret to have to inform you that Dave Campbell passed away at 11.00am this morning. As you are aware he had been suffering a serious illness for several weeks now and despite extensive surgery his condition continued to deteriorate.
I have known Dave for nearly 40 years as a formidable Team race opponent initially with Mick Perkins, then Dave Nixon and latterly with Bernie Langworth. However Dave was a complete aeromodeller with keen interests in many other branches of the hobby and always found time to share his knowledge and enthusiasm as many others will recall.
But his passion was undoubtedly for racing where he gained a great deal of success domestically in 1/2A , class B and F2C as well as several wins at various F2C Open Internationals. Together with Bernie he was an ever present member of the UK F2C team including a consecutive sequence of at least 12 times, an achievement of which he was justifiably proud.
I count myself very fortunate to have had the opportunity to partner him for the last 18 months - he was the perfect mechanic, excellent at pitwork, technically an excellent engineer who never hassled his pilot and a great friend.
It is, perhaps, very appropriate that he became a double champion in his last 2 major contests, winning the British Nationals 2002 F2C and the Grand Prix of Luxembourg for he was an all-round champion aeromodeller and a champion bloke.
I am sure there are many of you who will want to extend with me their deepest sympathies to his wife Christine, sister Christine, brother in law Mick Perkins and the rest of his family.
We all mourn the loss of a good friend and fellow enthusiast.
Derek –
Please pass on the sincere condolences of all Swiss enthusiasts.
Kind regards
Andy Sweetland
Derek –
This is heartbreaking news, although what must have been a torment is now over. In one instance, the pitting skill average of the World shrank sizeably. But if his spirit can dwell a little in us, learning from him is maybe not over.
Thank you for your good words Derek
Goran
Dear Andy -
Thank you for your message - We condole with all you
Dave Campbell was very good man
He was very good pitmen F2C
Irina Victor - Yugov
Derek,
Please transmit the sincere condolences of all the CMBL team members and from my family. Dave came every year to Marville and Landres since fifteen years. It will be difficult for us to understand that we will never meet him.
Best regards
Jean Paul; Claire; Odette and Matthew.
Rest in Peace Dave. You were a good friend and a great competitor. Your F2C family will miss you and you will always be in our hearts.
Dick Lambert
We send our deeper condolences to the Dave Family and to you Derek... No more words, only thoughts ..
All the Italian F2C fliers
Dave , we met in 1975 , and it's always been fun to be together. Why did YOU go ? We sure miss you for ever.
Roland 's Family and Thierry
Sad news: I'm close to the family and the friends. Thanks, Derek, for keeping us updated. We'll miss Dave.
Aldo Zana
Derek
Please pass on our deepest sympathy to the Campbell family. Although I never met Dave in person I had a number of telephone conversations with him. He was a person with a wonderful sense of humour, and apart from our phone
conversations a number of his letters really made me chuckle.
It was a real testament to him that I could get to know him quite well without ever meeting him in person. The help he gave us by obtaining engine parts and fuel ingredients that we were unable to access anywhere else, and the knowledge and encouragement he provided were what lifted us to the ultimate level of holding (albeit briefly) the NZ national F2C record.
Dave was a person who we could all learn a little from, not only in the area of aeromodelling but also in the way we may better live our lives by helping others. We will miss him greatly.
Best regards
Roger and Douglas Palmer - New Zealand
Derek,
We send our sincere condolences to you and the Dave Family of all Brazilian F2C family, he was a good friend and a great competitor.
Best regards
Rogerio Wieck and all Brazilian F2C team
From all of us in Singapore, our deepest sympathy and sincere condolances to the Campbell family. Dave, you will be missed dearly.
Hi Derek,
Please pass on my condolences to Dave's family. It's been a few years since I was living in the UK and racing with you all but I'm sure a man like Dave will be missed the world over, from my time in the racing circle I to think he was an awesome bloke.
Regards
Glen Lewis
Derek,
We send our sincere condolances to you and the Dave's Family of all f2c spanish and the Aerosafa club.
Nacho Iglesias
A big hello to an unforgettable friend. - I am sure that starting from now the heaven's angels will fly faster!!!
marcello magli
Andy
I thought that I would convey the thoughts of the Three Kings following the devastating loss of Dave C
As an F2C flier and secretary of the 3 Kings I would like to express our sincere condolences that I and the members of the 3 Kings would like to express following the unfortunate news about Dave and his wife Christine.
Our that our heartfelt thoughts go out to them at this very difficult time.
Personally I am very upset by this news as Dave has been a tremendous help and great mentor to me in my F2C career. I am sure that this is echoed by Alan Jupp and Alan Fritz who Dave personally helped with their F2C career until Alan F's unfortunate accident.
We as a club can only ask that our wishes to the family are conveyed.
Dave, God speed and hope for fast pitstops and good luck.
You will be sadly missed.
Best wishes
Duncan Bainbridge GBR 27286
and the entire membership of the Three Kings Aeromodellers London UK

A few Photos of Dave and his models from 1992 and the World C/L Champs in Hradek Kralove